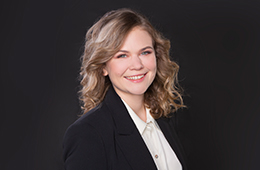 Attorney at law apprentice at the District Chamber of Attorneys at law in Kraków.
Graduate of law at the Faculty of Law and Administration of the Jagiellonian University. As an Erasmus+ scholarship holder, she studied at the Universidade de Lisboa in Lisbon. During her five-year studies, she was twice awarded with the rector's scholarship for the best students, repeatedly appeared at nationwide scientific conferences and actively participated in students' unions and scientific associations.
From the third year of her studies, she gained professional experience working at a law firm, where she dealt with day-to-day provision of legal services for entrepreneurs, helping with their everyday concerns regarding, among others, real estate law, consumer law, competition law, copyright law, as well as preparing pleadings as part of legal proceedings in commercial matters.
Her legal interests and professional practice are focused on contract law in consumer and professional commerce, e-commerce law, international commercial law, and tax law.
Currently, in addition to working at the Puwalscy&Partners team, she continues to explore her legal interests by studying intellectual property and new media law at the Jagiellonian University and participating in numerous workshops and courses focused on areas of legal interest to her. Among her recent achievements, it's worth noting the title of a finalist in the "EYe on Tax" nationwide tax competition.
Privately – a sailing and mountain trekking enthusiast.
Specialization:
Contract law,
E-commerce law,
Consumer law,
Tax law.
Experience:
Economic and civil law (day-to-day services for businesses, analysis and preparation of domestic and foreign commercial contracts, provision of advice and opinions on matters related to unfair competition, debt collection, handling of cases related to compensation claims and contractual penalties),
E-commerce law (auditing websites, mobile applications, drafting and reviewing regulations, contracts, privacy policies, advising on complaint procedures),
Real estate trading law (drafting contracts for real estate trading, auditing the legal status of properties, advising on property disputes),
Tax law (analysis of implemented solutions, projects and contracts, taking into account the effects of tax legislation).
Languages:
E-mail: